The IT Crowd – version 1.0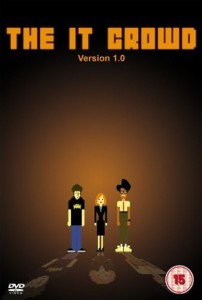 The IT Crowd er en veldig morsom britisk TV-serie. Komiserien handler om de to IT-folkene  Roy and Moss som jobber i et stort selskap. De er trykt plassert på et lite kontor i kjelleren. Her tilbringer de det meste av tiden, og her føler de seg trygge. Jen som er det kvinnelige innslaget, blir overflyttet til IT-avdelingen for å lede de to nerdeguttene. Men hun kan ikke noe om data.
Det er nok ikke den mest effektive IT-avdelingen som finnes. Det blir gjerne litt TV-spill, surfing og rolig "kontorarbeid". Men det hender jo at de får en telefon eller to fra fortvilte brukere lenger opp i bygget, og da går samtalen omtrent som følger:
"Hello, IT. Have you tried turning it on and off again?
OK, well, the button on the side, is it gloving?
Yeah, you need to turn it on."
Sesong 1 av The IT Crowd inneholder seks episoder:
Yesterday's Jam
Calamity Jen
Fifty-Fifty
The Red Door
The Haunting of Bill Crouse
Aunt Irma Visits
I tillegg er det noe bonus materiale: Deleted scenes, Behind The IT Crowd, Hello Friend, Hidden Out-takes og Audio commentaries.
The IT Crowd er en utrolig morsom serie og med bare seks episode ser du den lett i løpet av en kveld eller to.
Jeg har ikke sett noen norsk utgave av denne serien, men kan kjøpes her i landet selv om Amazon.co.uk kanske er det billigste jeg har sett.