The IT Crowd – version 2.0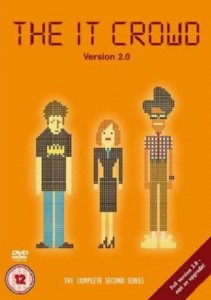 Sesong 2 av The IT Crowd fortsetter på mange måter der sesong 1 sluttet. Denne sesongen er like morsom som den første. Men vi får denne gangen se Roy, Moss og Jen utenfor jobben og kontoret i kjelleren. Det byr jo på en del morsomheter siden Roy og Moss ikke har tilbragt så mye tid i den virkelige verden. De føler nok en større trygghet nede i kjelleren.
The IT Crowd er god britisk humor. Følgende episoder er med på DVDen:
The Work Outing
Return of the Golden Child
Moss and the German
The Dinner Party
Smoke and Mirrors
Men Without Women
I tillegg er det litt bonusmateriale i form av Out-takes, kommentar på alle episodene med write/director/creator Graham Linehan og Recording the IT Crowd.