Anmeldelse: Transformers 3 – Dark of the Moon (2011)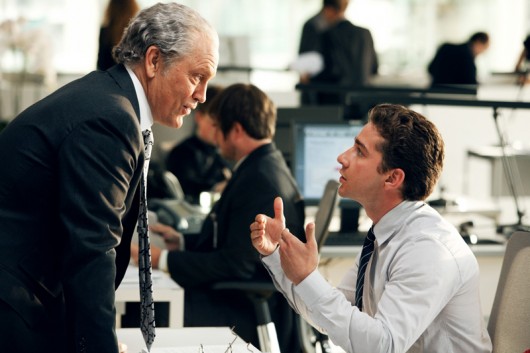 Foto: IGN.com
I belive that this nation should commit it self, to achieving the goal, before this decade is out, of landing a man on the moon and returning him safely to earth.

John F. Kennedy (12. april 1961)
Slik kan introduksjonen til Transformers 3: Dark of the Moon i korte trekk oppsummeres. Månelandingen var altså ikke fake, men en dekkoperasjon for noe annet. Et cybertronsk romfartøy styrtet på Månen og undersøkelsen av dette var astronautenes egentlige måneoppdrag. Amerikanerne ville ikke at disse funnene skulle komme i russernes hender.
Autobotsene er i militært samarbeid med amerikanerne, mens stakkars Sam Witwicky (Shia LaBeouf) er arbeidsløs og kan ikke skryte av sine tidligere bedrifter, til tross for en flott medalje fra Obama. Etter hvert må Sam på nytt være med Autobots sin kamp mot Decepticons.
Du vet omtrent hva du får når du går på kino for å se en film av Michael Bay. Mye action, litt mer action også topper vi det med litt action på slutten også.
Etter åpningen av filmen med arkivklipp fra romkappløpet på 60-tallet, kunne filmen valgt den konspiratoriske retningen av månelandingen. Hadde vært artig det. Men det var jo tross alt kampen mellom Autobots og Decepticons som det fokuseres på. Helt greit egentlig. Jeg gikk på kino for å se en actionfilm, og det fikk jeg.
Shia LaBeouf gjør nok en gang en god rolletolkning som Sam Witwicky. Jeg har sansen for LaBeouf, fra de forrige Transformer-filmene, men også i blant annet Indian Jones krystallhodeskallens rike og Disturbia.
Dessverre er Megan Fox byttet ut med den britiske undertøysmodellen Rosie Huntington-Whiteley. Hun virker svært anonym i filmen og gjør lite ut av seg. Mens Megan Fox bidro til handlingen i de to forrige filmene, virker det bare kjedelig hver gang Huntington-Whiteley dukker opp. Hun er filmens store skuffelse.
En som derimot ikke skuffer, er John Turturro som nok en gang spiller agent Simmons. Han er perfekt i denne rollen og er så absolutt med på å gjøre filmen til en morsom opplevelsen. Jerry Wang i Ken Jeongs skikkelse er også med på å høyne det komiske elementet.
Foreldrene til Sam Witwicky, spilt av Kevin Dunn og Julie White, er jo et morsomt kapittel for seg. Jeg liker også karakteren som John Malkovich spiller. Artig er det også at Buzz Aldrin dukker opp, som seg selv.
Transformers – Dark of the Moon er en grei midt-på-treet-film. Action-sekvensene gjør seg godt i 3D og lyden fyller det som er av høyttalere i kinosalen.
Utigtt: 2011. Nasjonalitet: USA. Sjanger: Action, sci-fi. Regi: Michael Bay. Produsenter: Don Murphy, Tom DeSanto, Lorenzo di Bonaventura, Ian Bryce. Manus: Ehren Kruger. Skuespillere: Shia LaBeouf, Josh Duhamel, John Turturro, Tyrese Gibson, Rosie Huntington-Whiteley, Patrick Dempsey, John Malkovich, Frances McDormand, Kevin Dunn, Alan Tudyk, Julie White, Ken Jeong. Studio: DreamWorks Pictures. Distributør: Paramount Pictures.