Endelig 3DS-trailere fra E3 på eShop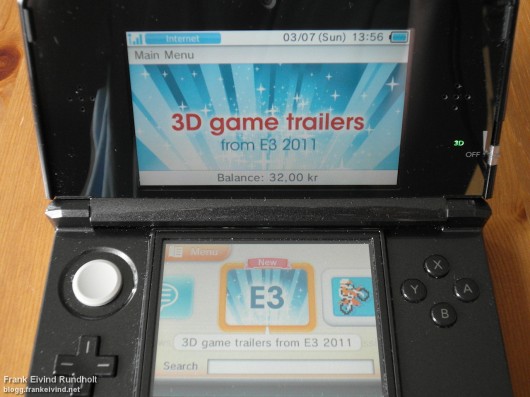 Det er nesten en måned siden E3, og endelig har Nintendo sine 3DS-trailere funnet veien til den europeiske eShop på Nintendo 3DS. Amerikanerne fikk trailerne mens E3 holdt på.
De 10 trailerne kom på eShop i to puljer. Den første kom 1. juli og inneholdt:
Mario Kart
Resident Evil: Revelations
Star Fox 64 3D
Super Mario
The Legend of Zelda: Ocarina of Time 3D
I pulje to som kom 5. juli, var følgende trailere med:
Animal Crossing
Kid Icarus: Uprising
Luigi's Mansion 2
Metal Gear Solid 3D Snake Eater
Paper Mario
Trailerne lastes ned og lagres på SD-kortet. Om trailerne kom seint, kom de godt. The Legend of Zelda: Ocarina of Time 3D er allerede i butikken, og dette har jeg begynt å spille. Liker det.
Av de andre trailerne som er tilgjengelig ser jeg fram til Mario Kart, Super Mario, Animal Crossing og ikke minst Luigi's Mansion 2. Dette ser veldig bra ut i 3D. Jeg likte Luigi's Mansion på GameCube og det ser ut til at 2'rn blir en god oppfølger.