The IT Crowd – version 3.0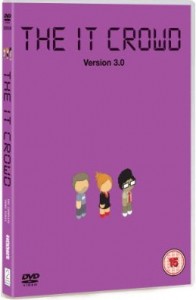 Jeg likte sesong 1 og 2 av The IT Crowd veldig godt. Det er derfor fint å se at sesong 3 holder samme humoristiske standard som de tidligere sesongene. Vi følger fremdeles Moss (Richard Ayoade), Jen (Katherine Parkinson) og Roy (Chris O'Dowd) som jobber i IT-avdeling hos Reynholm Industries. Kan disse tre personene drive en IT-avdeling, er det håp for de fleste.
Følgende episoder er med i sesong 3:
From Hell
Are We Not Men?
Tramps Like Us
The Speech
Friendface
Calendar Geeks
Favoritt episodene min i denne sesongen er The Speech hvor Moss og Roy overbeviser Jen om at Internett er inne i en liten sort boks. Dessuten er Friendface en veldig god parodi på Facebook.
Følgende bonus materiale er med:
 Audio commentary w/Graham Linehan
 An Interview with Graham
Original Title Sequence Animatic
Deleted Scene 1: "Look After Yourself"
Deleted Scene 2: "Roy's Sex Life"
Cracking the IT Crowd
Set Tour
Out-takes
The IT Crowd er en morsom serie som anbefales. En sesong 4 kommer våren 2010, gleder meg til det.