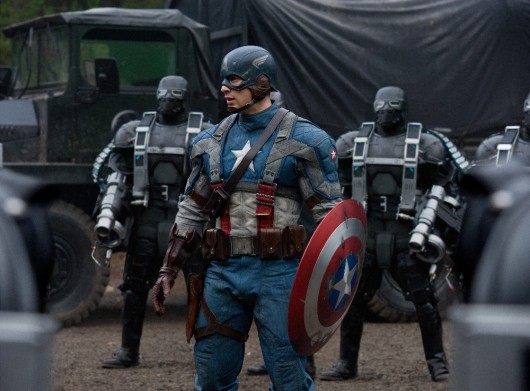 Jeg har egentlig ikke noe forhold til Captain America annet enn det som blir refert til i diverse filmer, TV-serier og spill. Dette er nok en tegneserie fra Marvel Comics jeg ikke har lest.
Captain America dukket første gang opp i 1941 i bladet Captain America Comics. Bladet har siden den gang solgt i 210 millioner eksemplarer i 75 land.
Men nå er altså tiden kommet for Captain America: The First Avenger, og i 3D for dem som velger det.
Den gode og den onde
Året er 1942 og 2. verdenskrig holder på som verst i Europa. Steve Rogers (Chris Evans) er en spinkel og spe gutt som svært gjerne vil verve seg til hæren, men som gang på gang får avslag helt til han en dag får et tilbud av Dr. Abraham Erskine (Stanley Tucci) om å verve seg som en del av et super-soldat program.
Nazi offiseren Johann Schmidt (Hugo Weaving) er leder for den hemmelige forskningsavdelingen HYDRA. Han er igang med å lage et våpen som han mener vil garantere seier til Tyskland.
Steve Rogers er i Captain Americas skikkelse, blitt en del av det millitære PR-apparatet i USA. Han blir etter hvert sendt over til Europa for å holde moralen oppe der. En venn av Rogers er missing in action, og han stikker av for å finne ham og for å ta knekken på Johann Schmidt.
En god film
Captain America: The First Avenger starter nærmest i Norge, nærmere bestemt Tønsberg. Skuespillerne snakker, i alle fall etterlikner, et slags norsk. Er jo artig for oss nordmenn. Mens tyskerne som dukker opp snakker… amerikansk.
Som sagt, har jeg aldri lest en tegneserie med Captain America. Men hadde likevel en veldig flott film opplevelse.
Jeg liker skikkelsen til Tommy Lee Jones, Colonel Chester Phillips, han bringer en god del humor inn i filmen. Og Stan Lee dukker også opp, slik han ofte gjør i Marvel-filmer.
Ellers er det jo en god del action i filmen, og den virker fornuftig. Det pøses ikke bare på for å få tiden til å gå, men har en funksjon. Historien er god og holder filmen gående, og bygger opp mot en slutt som kan tolkes til at her kommer det en oppfølger etter hvert.
Til tross for sine to timer, virker ikke filmen lang.
Som med mange andre tegneserier-til-film fra Marvel Comics, er Captain America: The First Avenger godt laget. Fullpakket med action og humor. En god film for deg som vil på kino og bli underholdt.
Utgitt: 2011. Sjanger: action, eventyr, sci-fi. Regi: Joe Johnston. Produsent: Kevin Feige. Manus: Christopher Markus, Stephen McFeely. Skuespillere: Chris Evans, Hayley Atwell, Sebastian Stan, Tommy Lee Jones, Hugo Weaving, Dominic Cooper, Richard Armitage, Stanley Tucci, Samuel L. Jackson, Toby Jones, Neal McDonough. Studio: Marvel Studios. Distributør: Paramount Pictures.
Foto: IGN.com